ACC Meeting of the Minds Conference, 2020
University of North Carolina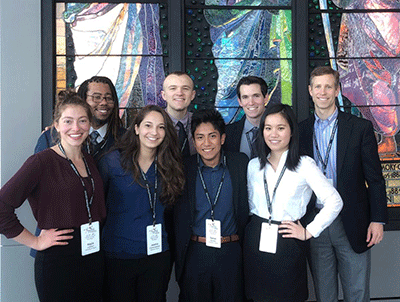 Chapel Hill, NC
March 20 – 22, 2020
Each year five to six outstanding undergraduate researchers (accompanied by a faculty/staff member) from each ACC university gather at a host university to present their research, either verbally or as a poster. At most universities, the student delegates are chosen through a refereeing process. For more information visit the conference website.
This year students in all majors are encouraged to apply to represent the University of Virginia at the ACC MOM in Chapel Hill, NC. Follow the application link above to apply by noon on February 5. For more information on the 2020 conference please see: https://accmom2020.web.unc.edu. For more information about the UVA selection process email Office of Undergraduate Research.
---
Network for Undergraduate Research in Virginia Conference Call for Submissions
The Network for Undergraduate Research in Virginia (NURVa) is a consortium of Virginia colleges and universities dedicated to supporting undergraduate research and creative activity throughout the state.
The NURVa conference is an opportunity for undergraduates in all disciplines to present their research and creative work at a statewide conference. The inaugural conference will be held on Saturday, January 25, 2020, at Hampden-Sydney College in Hampden Sydney, VA. Faculty mentors are encouraged to attend. Conference registration, which includes lunch, is $15.
NURVa invites submissions from undergraduates in all disciplines in the categories of oral presentation, poster, or performance. Submit abstracts (750 words maximum) with one letter of support from a faculty mentor at https://tinyurl.com/NURVaConference Submission deadline is midnight, November 1, 2019. Conference submissions for the January 25th event have closed.
Any questions, contact Dr. David A. Salomon, david.salomon@cnu.edu.
---
National Collegiate Research Conference (NCRC), 2020
Harvard University
Boston, MA
January 24-26, 2020
NCRC is a large-scale, multidisciplinary forum held annually at Harvard University, where the most accomplished undergraduate students from across the United States and internationally convene each year to share their research in the humanities, social sciences, and natural sciences. The core vision behind our conference is to provide student researchers with the opportunity to hear from the world's leading authorities in academia, policy, and industry, as well as to foster important exchanges and dialogue between students. Last year, after being selected through a competitive application process, over 200 participants from nearly 75 universities across America and abroad attended our conference. Through NCRC, we hope to expand the perspective of undergraduate researchers through offering exposure to diverse fields and to facilitate the discourse on collaboration, leadership, and social impact in research that we believe will be invaluable in future pursuits.
This year, we are honored to host speakers Dr. Claudia Goldin (Henry Lee Professor of Economics at Harvard University), Dr. Emery Brown (Warren M. Zapol Professor of Anaesthesia at Harvard Medical School), Dr. Jeremy Berg (Professor of Computational and Systems Biology at the University of Pittsburgh School of Medicine), Dr. Suzanne Blier (Allen Whitehill Clowes Professor of Fine Arts and of African and African American Studies at Harvard University), Dr. Cass. R. Sunstein (Robert Walmsley Professor at Harvard Law School) and Dr. George Church (Professor of Genetics at Harvard Medical School and Professor of Health Sciences and Technology at Harvard and the Massachusetts Institute of Technology).
The application deadline for general applications is December 15th, 2019 (11:59PM EST). Note that the deadline has been pushed back due to technical difficulties with our website that have now been resolved. In addition, we will also be accepting late applications with a late fee until January 1st, 2019 (11:59 EST). You can find the application and further information on our website http://ncrc.hcura.org/.
---
Mid-Atlantic Undergraduate Research Conference, 2020
Virginia Tech
Blacksburg, VA
March 28–29, 2020
The Mid-Atlantic Undergraduate Research Conference serves as an opportunity for undergraduates and professionals to share their passion for research. We believe in encouraging the collaboration of knowledge in order to facilitate advancement within areas of science, technology, engineering, and mathematics. The Mid-Atlantic Undergraduate Research Conference will be a two-day event, March 28 - 29th, which will include notable keynote speakers, panel sessions, student oral and poster presentations, and catered meals. More information.
---
Olin Business School at Washington University in St. Louis Undergraduate Research Conference
Washington University 
St Louis, MO
April 3-5, 2020
Once again, the Olin Business School at Washington University in St. Louis is hosting an undergraduate research conference from April 3-5, 2020 here in St. Louis. The application is open to any undergraduate student conducting research in business topics. Those selected would receive a per diem from Olin for the cost of travel, lodging and meals. The weekend long event will also feature guest speakers and off-campus social events.
Attached here is a link to our website. Please note that the email on our webpage is incorrect and students must email their abstract and CV/Resume by February 1, 2020 to CRESconference2020@wustl.edu. The deadline is likely to be pushed back, but we'll notify you of any changes.
Contact - Luke Sammons 630-414-3233
---
2019 Stanford Research Conference
Stanford University
Palo Alto, CA
April 5-7, 2019
SRC is Stanford Undergraduate Research Association's annual research conference that serves as a forum for undergraduates from all over the country to present their work, connect with other researchers, and hear from distinguished leaders in the research community. The sixth annual SRC will be held on April 5-7, 2019 at Stanford University, and we invite you to apply.
Applications for our conference are due January 5, 2019. You can find the application here.
Learn more about SURA and SRC.
Email board.sura@gmail.com with any further questions. We look forward to receiving your application!